The difference is in quality...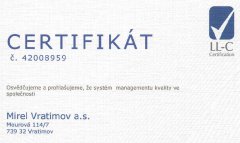 Our mission is not only to offer quality products, but also excellent and reliable services related to the distribution of these products to the customer. Our mission is our motto … "The difference is in quality…"
We strive to develop in the following key areas in order to meet our mission to ensure the highest quality of our products and services:
Quality Research, Development and Innovation: Innovation is an important tool for us to improving the quality of our products, enhance their functionality and utilisation and thanks to this, increase the attractiveness of our products for our customers. We strive for the application of innovative ideas not only in our technology team but also from our customers. Due to this fact we are able to offer the most progressive products on the market in the field of insulation, industrial packaging and food packaging.
High-quality production: Mirel Vratimov a.s. is a Czech manufacturing company with a tradition since 1992. Mirel Vratimov a.s. is a Czech manufacturing company with a tradition since 1992. A key element of our business success is exact and high quality production. The quality of our products is the best competitive advantage and a guarantee for maintaining the market position that we have developed over the years. Maintaining the highest product quality is a primary goal for our technology team. It is a matter of course that all our products meet all European legislative requirements and standards. We keep up to date certification of EN ISO 9001. Since 2012, we have participated in the program Czech Quality for the promotion and sale of high quality products made in the Czech Republic. In December 2012 we successfully completed certification according to the strict British BRC/IoP Packaging Standard – an international standard that addresses the requirements for the packaging safety of our food film. Compliance with the requirements of these standards ensures that our customers buy only the highest quality products from us.
Quality services for the customers: Ensuring of quality accompanying services for our customers is for us as important as providing top quality production. We provide professional trainings and presentations and free technical consultations for choosing of the optimal products and solutions. We implement pro-customer approach. We attempt to react on every customer suggestions. Due to our technical and manufacturing capabilities, we are able to ensure the implementation of atypical products according to specific customer requirements. Part of our services is also marketing support for reselling of our products. Unproblematic logistics is an integral part of our company strategy. We constantly strive to optimize our distribution strategy, logistics processes and effective inventory management while minimizing financial costs.
High-quality human resources: The last but equally important element of our strategy, "The difference is in quality", is with our staff. We are constantly investing in the professional development of our employees, so that their work is reflected in customer satisfaction. For this purpose we built our own training centre in 2011. There, our employees are systematically trained. You can expect loyalty, proactivity, reliability and expertise from our more than 100 employees. The staff of our sales, logistics, and technical department are ready to respond immediately to your needs and to help you find the best solution in every situation.