Fresh'n'Roll PVC film for food products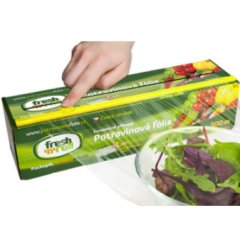 New modern product for food packaging. Perfectly functional and certified film, made from additives of plant origin.
Uses:
for food wraps in the household

school canteens and catering

selling fresh food over the counter
Properties
1. Excellent adhesion
perfect seal and prevents spillage

low consumption of film – just a small overlap required

prevents the transmission of odors
2. Good for microwave ovens
3. Friendly to nature
high quality and certified

contains additives of plant origin
4. Retains freshness
optimal throughput of O2 extends the shelf life of foodstuffs.

protects against drying and retains aroma and taste

keeps food moist and fresh longer
5. Antifog system
6. Quiet unraveling
7. Certification
Properties
PVC has excellent mechanical properties. It is flexible even at very low temperatures. Its valued properties are low weight and, compared to other plastics, excellent parameters in tension and bending. It is a hard, transparent material with excellent thermal resistance.

PE exposed to light, heat and tension ages and degrades very quickly, which is reflected in brittleness and hardening.

PVC is difficult to ignite and does not burn spontaneously

PE easily ignites and is easily flammable
PVC has the best possible properties for food packaging. To keep food fresh longer, you must have packaging material – for example, a wrap to put cheese in – minimal permeability of oxygen and vapor. Alternative materials achieve similar properties as PVC, just for the price of greater thickness and therefore higher costs for packaging.
See examples of packaging with the film Fresh'n'Roll on our YouTube channel (See here)